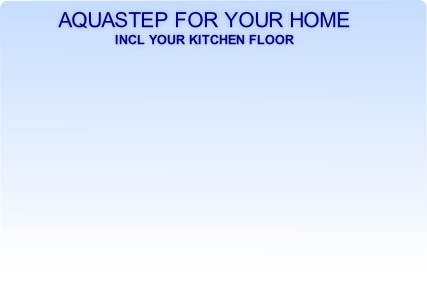 Welcome to the most advanced and practical waterproof laminated flooring available in Australia ®.
Aquastep® is the latest innovation in Laminate Flooring.
Aquastep's unique waterproof and acoustic properties eliminate water, moisture and sound problems of typical wood and laminate floating floors.
100% Waterproof and with the highest commercial fire rating, Aquastep® is also quiet, eco friendly and VOC free.
Aquastep is available in a range of 15 modern colours and styles to suit your home.
Aquastep's® unique construction prevents water damage, warping, deforming and swelling due to moisture. Aquastep is made from recycled plastics, woods and stone, combining to create a waterproof flooring suitable for kitchens, lounge rooms, dining rooms, bedrooms, and laundries. Depending upon drain positions, Aquastep may not be suitable for some bathroom applications due to drainage locations. Check with your stockist if it will work for you.
Aquastep can be installed as a floating floor or it can be directly adhered to your sub floor.
No problems with a green slab. You won't have to wait 3 months for your slab to dry when you use Aquastep. It's easy to install for budding DIY builders. Packed in cartons weighing 26kg, Aquastep is also easy to physically manage.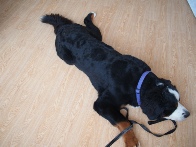 Aquastep® is the easy clean solution for a busy kitchen floor. You can use a damp or wet mop with Aquastep. Just add a neutral cleaner to your water. Most cleaners are harsh and unsuitable for anything other than cold tiles. We recommend using natural cleaners which can be purchased at most supermarkets.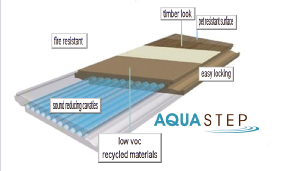 Aquastep® is ideal for quiet high rise living
Sound deadening materials and an inbuilt sound cavity make Aquastep® the quietest hard flooring available today.
Depending upon the underlay selected, Aquastep can achieve significant sound reductions ranging from 20 db to 30 db. You need to know the acoustic limitations of your your apartment to determine whether you or not you will need upgraded underlay. Aquastep will always meet the Building Code of Australia using regular Dunlop 2mm underlay.
acoustics
cleaning
installation and warranty




© 1997 Stylex Carpet Industries P/L

Stylex ™ (since 1997)
Commercial Carpets & Rugs
Custom Project design, management and distribution
NSW Australia