Stylex Carpet Industries
Commercial Carpets | Rugs | Waterproof Wood Flooring
NSW Australia



LOW SOUND FLOORING
AQUASTEP
FOR
APARTMENT LIVING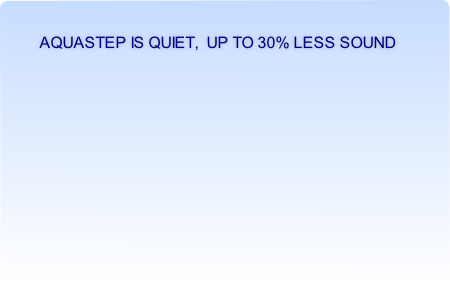 Sound deadening materials and an inbuilt sound cavity makes Aquastep waterproof flooring one of the quietest floating floorboards' available.
Aquastep achieves significant sound reductions ranging from 20 db up to 25 db with regular underlay, and can be up to 30% more quiet than other laminates and floating floors.
The building code of Australia sets minimum acoustic standards for multi occupancy dwellings which are often difficult to achieve, even with upgraded underlays.
Aquastep has been tested on buildings known for bad acoustics and never fails to achieve results that fall within the building code of Australia standards using regular underlay.

When considering hard flooring in an apartment, you will have to deal with the acoustic requirements of your Strata or Body Corporate.
Rarely, if ever, is an actual acoustic value nominated in the by-laws. Why?
Because every building, and every apartment in every building, and every room within an apartment will have different sound characteristics. Confusing? You bet. Its very difficult for Strata and Governing Bodies to manage, let alone come up with a set of rules that satisfies all occupants.
Whilst Strata and Body Corps may guide with rules, most struggle with the issues of sound control in apartments. Often there is reference in the Strata documents stating that you "the owner" are responsible for the quiet living and peaceful enjoyment of your neighbours' home environment. The statement comes in many forms yet generally means the same thing.
Unless someone (either you or your strata) is prepared to spend thousands of dollars on site testing, you will never know for sure how much sound is travelling to your neighbours' home. There is no average which can be successfully applied. Inevitably any sound related issues come down to your neighbour versus your floor, and a third parties interpretation of the rules.
STRATA
ACOUSTIC REQUIREMENTS
Aquastep is so confident on issues of sound transference that we warrant our flooring for sound transfer.
When installed on a standard 2-3mm acoustic timber underlay, Aquastep will achieve and exceed the current building code of Australia standards.
Higher grades, thickness and compositions of underlay will further improve for more stringent acoustic results which are sometimes required by strata rules.
Aquastep "quiet" guarantee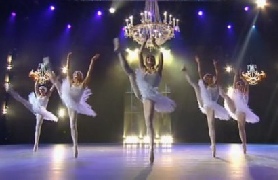 Aquastep's inbuilt proprietary cavities and unique waterproof materials muffle sound as it transfers through the floor, altering the frequency and impact of acoustics.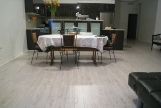 National dance competition chooses Aquastep as the dance floor.
Conscious of the sound creating nature of hard flooring, Aquastep was the perfect choice due to its hard wearing and low sound creation characteristics.
Aquastep survived the toe tapping, boot grinding experience and was packed upon completion and put into storage for the next competition.




© 1997 Stylex Carpet Industries P/L